| | |
| --- | --- |
| Issue: # 10 | August 20, 2010 |
Greetings!
I'm excited to share this month's newsletter with you. This time we're touching on the essentials--what's at the core as expressed through our relationships with our parents, the earth, even ourselves. We don't have to look far to find everything we need for holistic health and wellness. Even plentiful dirt can soothe our body, mind, and spirit!
We hope you enjoy it!
Many Blessings,
Michela
editor@bestlifemedia.com
Embracing Duality

Feature Article

Everywhere we look-outside and within-we can see dualities: yin and yang, good and bad, light and dark, positive and negative, happy and sad, secure and insecure, passive and aggressive, open-minded and closed, etc. The way we think about these dualities significantly affects our thought processes and world outlook. If we pit two sides of a duality against one another, we may tend to see the world as a place of conflict and competition. In contrast, if we see two apparent opposites as aspects of a greater whole, or even as two extremes of a continuum, we may have a more harmonious, integrated outlook overall. How we view dualities is our choice, but knowing how fundamental this view is to the rest of our thinking helps us to make this choice consciously.

Another way to treat the dualistic nature of the universe is to see it as the expression of a single underlying life force. As the source of everything, this life force naturally consists of all dualities. However, compared to the source itself, the various characteristics it expresses are merely malleable and ever-changing phenomena.

By connecting with the life energy within and around us, we are able to choose what dualistic phenomena are expressed in any given moment. To do this, we first need to embrace duality and accept that one extreme is neither better nor worse than its opposite. Once we accept this, we can transcend dualism and access the oneness that exists beyond it. This oneness brings forward the creative power, peace, love, and harmony that characterize our most basic nature-the true nature of life. From this oneness, we can also discover our life purpose and the ability to fulfill it. Our life purpose can then dictate the ephemeral phenomena we choose to manifest in our lives.


There are a myriad of ways people of various traditions have used to move beyond duality and experience oneness. Yoga, prayer, meditation, tai chi, and bowing are just a few. One simple way to get a taste of this right now is chest tapping and breathing. All you need to do is tap around your entire chest with your palms while exhaling out your mouth. You can even vocalize using the "ah" sound, or any other sound, song, or humming that feels right to you.

Close your eyes and feel the vibrations inside. Focus on your heart. Probe deeper and deeper into your heart as you exhale the many layers that surround it. Let the chest stimulation and your heart focus relax you and calm your thinking. Continue tapping and breathing until you break through enough of your barriers to find a deep sense of peace. Then breathe quietly and deeply and you let that peace fill you.

When we take time each day to experience our oneness, we will naturally come to embrace life's dualities in all their various forms. In this acceptance, life's dualities become our wise teachers who unveil the lessons we are here to learn.
Honoring the Mother and Father

Ilchi Inspiration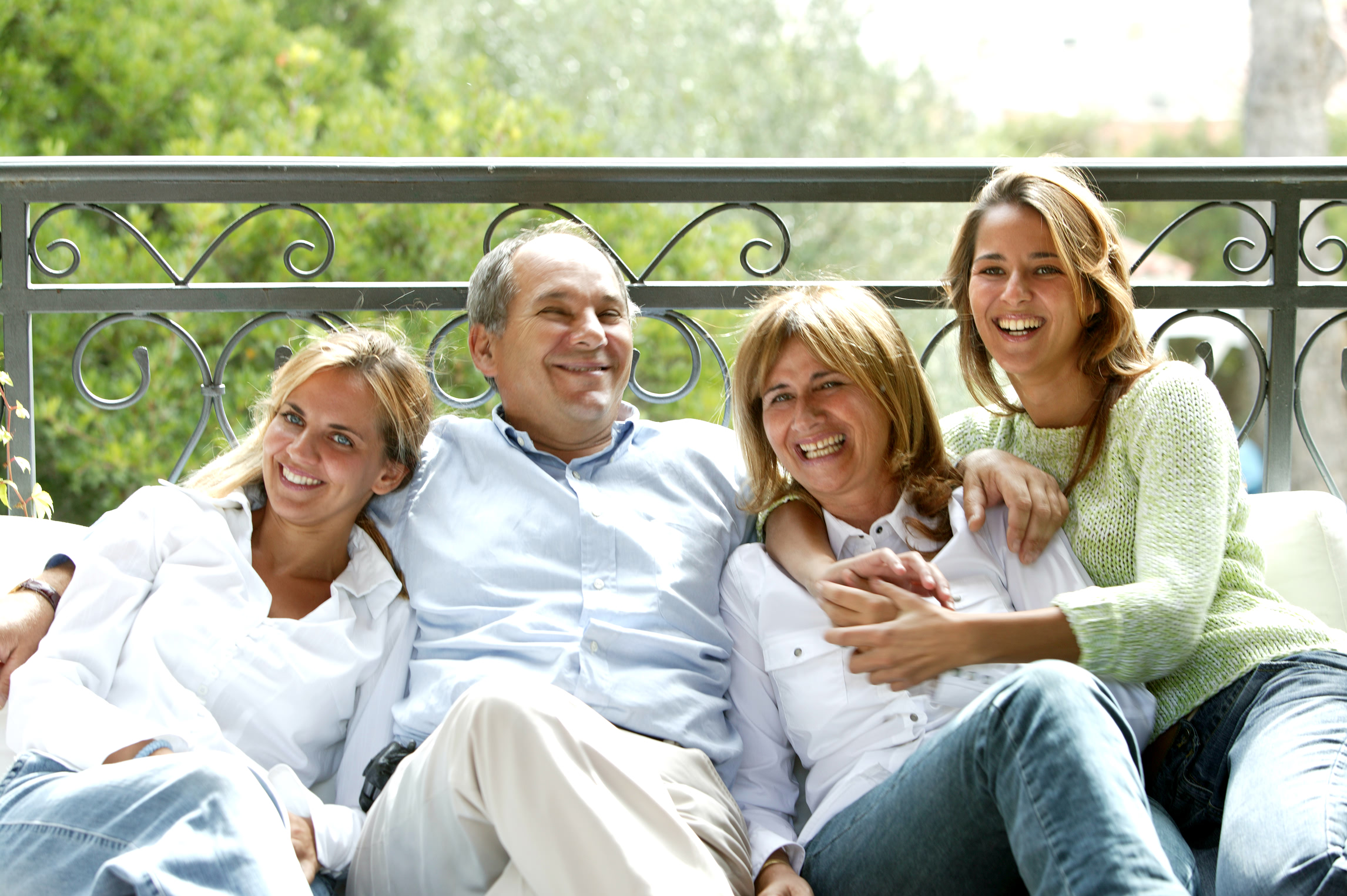 No position in the world-not CEO, minister, or president-is greater than that of mother or father. That's because parents are mentors who teach their children how to live well. From their words, actions, and example, they are our first source of wisdom, guidance, and support. Our deepest values and habits were formed from our mothers and fathers. Our parents are the stem from which each of us blooms, regardless of their quality.

Therefore, honoring and taking care of our parents is the most basic level of love. Everyone needs to love and honor their parents. How can we truly love ourselves if we don't love our ancestry of origin? Our relationship with our parents is the first relationship we form, and our first potential experience of unconditional love. Even if we don't receive unconditional love from them, honoring our parents is an opportunity to find the unconditional love in our hearts for them as well as others. Before our love can expand to a genuine love of our nation and everyone on the planet, we need to express love by honoring our parents.

How we honor our mother and father depends on our circumstances. Even if we cannot physically take care of or be with our parents, we can honor their memory, forgive any perceived transgressions, and extend the highest parental love to our own children. Honoring our parents means acknowledging them with gratitude and respect for what they've given us, even if it was only entry into this world. It means being the best person we can be and acknowledging our parents with a healing heart and mind.
Get Dirty! For Your Body, Mind and Soul

Mago's Message

Have you ever stopped to think about the wondrous world of

DIRT

?

Dirt, or soil by another name, is the skin of the earth. It represents the first five centimeters of life on the planet and is home to tens of billions of microorganisms. We depend on dirt to purify and heal the systems that sustain us. It gives us food and shelter. It reduces erosion and regulates our climate. Dirt holds and purifies our water. It heals and beautifies our bodies. It impacts our brain and even soothes our soul.

Many of us can relate to our early encounters with dirt. As kids, we rolled around it, scooped up living creatures from it, made mud-pies with it, and sometimes even ate it. As students, we may have learned about dirt in class and later grown-up to farm or study the soil. As women or holistic healers, we know the value of mud baths and clay packs. Even our ancestors used dirt in all its various forms for utilitarian, medicinal, spiritual, and creative pursuits.

Now, a recently released documentary takes an astonishing, humorous, and substantial look at the glorious and often unappreciated ground beneath our feet. DIRT! The Movie (2009) is a poignant documentary that unearths our cosmic connection to the soil and explores how diverse groups of people are uniting to save this natural resource.

Dirt takes center stage as farmers, scientists, activists and more share their personal accounts re-connecting with the soil. Floods, drought, climate change, and even war are directly related to the way we treat our dirt. Traveling from the vineyards of California to the plains of Kenya, DIRT! reveals how repairing our relationship with dirt can create new possibilities for all life on earth.


Scientific research is now proving the undeniable healing properties of dirt. The "hygiene hypothesis", first introduced in 1989, says that exposure to a certain amount of dirt during your early life makes you a healthier person as you age. Researchers found evidence that exposure to a wide range of common microbes in childhood helped to promote healthy development of the immune system.

A newer 2009 study by UK scientists discovered that common soil bacteria can have antidepressant effects. The research, published in the journal

Neuroscience

by collaborators at Bristol University and University College London, used lab mice treated with Mycobacterium vaccae and found that it activated a specific group of neurons in the brain that produce serotonin. Serotonin is the happy chemical that plays a role regulating mood, metabolism, anger, aggression, sleep, and appetite. There's no denying it: getting dirty is good for you!


Clays, muds, and sands-each a different form of earth, all contribute to life-giving, health-restoring processes. Healing clays have been used by indigenous cultures since before recorded history. Naturally absorbent and extremely gentle on the system, bentonite clay can treat various skin and internal ailments, and attracts and neutralizes poisons in the intestinal tract. Today, clays are commonly used at health spas in the form of mud baths and facials. And researchers at Arizona State University have shown that some forms of clay actually kill salmonella, E. coli, MRSA, and Mycobacterium ulcerans, which causes flesh-eating disease.

Even just un-plugging from our techno-gadgets for a few hours, and burying our hands and feet in the dirt, can have undeniably soothing effects. Gardening has been proven to promote relaxation, reduce mental stress, and lower blood pressure. Hiking a nature trail in solitude or burying your feet in the sand can help you tap into your innermost self. And as Ilchi Lee teaches, by honoring your relationship to the soil, the skin of Mother Earth, you are honoring your very soul. So, don't hesitate. Go out and get dirty today!



To learn more about connecting with Mother Earth, read

Mago's Dream

by Ilchi Lee.



BEST Life Media publishes energy healing and yoga books, yoga DVDs, CDs and other products that promote healthy body mind spirit living. Brain Education System Training (BEST), which seeks to better the human condition through a variety of self-development techniques, serves as the underlying inspiration for many of our titles. Visit our website to browse our affirmation cards, a chakra meditation guide, wall art, personal journals, and other tools to assist your spiritual growth. Visit us at:





Save 20%

Newsletter Exclusive Discount

NATURE HEALS: Meditations for Self-Healing

By Ilchi Lee

Audio CD

Immerse yourself in the healing properties of the planet (rain, water, sun, trees, wind, and earth) and experience the healing properties of Mother Earth. Connect with the flow of nature and soothe your body, mind, and spirit.

Use coupon code blm_0810 when you check out.

Offer Expires: September 16, 2010