| | |
| --- | --- |
| Issue: # 11 | June 15, 2010 |
Greetings!
What is your passion? How do you express your creativity?
In this issue, we explore the source of true creativity and give you tips on how to tap into it. We hope they can expand your life and make it a little more fun.
Many Blessings,
Michela
editor@bestlifemedia.com
Tapping Into Your Creativity

Feature Article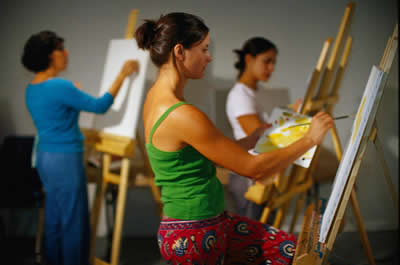 Human beings are born to be creative. Our brains possess infinite creative potential but most of us do not tap into it. Often, we limit ourselves to daily routines and previously programmed ways of thinking that stifle our creativity. We even limit ourselves by our own internal definition of creativity, believing that it reserved for a chosen few-those who are gifted as writers, artists, actors, musicians, singers, or the like.
But true creativity lies within all of us. Creativity is the ability to transcend traditional ideas, rules, patterns, and relationships to create meaningful new ideas, forms, methods, interpretations and ways of being. It is marked by originality, progressiveness and imagination.
Creativity is the ability to generate innovative ideas and manifest them from thought into reality. The process involves original thinking and then producing. The process of creation was historically reserved for deities creating "from nothing" in Creationism and other creation myths. Over time, it has come to include human innovation, especially in art and science, and even knowledge-based workers.
According to Ilchi Lee, the human brain is designed to seek new information and link ideas and possibilities together in a complex web of information that gives birth to creativity and innovation. All of the great human inventions are the result of the brain's unlimited creative potential. The airplane, the computer, the technology that enabled man to walk on the moon, all began with simple questions. As our brain seeks new data and ideas through an endless array of pathways, our awareness expands.
Inspiration and creativity go hand in hand. Inspiration seeps forth from the subconscious mind. Creativity stems from a longing within the soul. Both require a meeting of the rational, emotional, and spiritual aspects of oneself that gives rise to something of meaning that satisfies all sides of the human brain-both left and right. To access this creativity, we must step outside the box of our own preconceptions, and look at life in a new way.
To be truly alive, we must demand more of our brain and tap into its creative potential. So, what inspires you? Is it writing, singing, acting or creating artwork? Is it flair for cooking, entertaining with panache, or decorating with distinction? Is it the ability to teach a child, grow a garden, build a building, or close a deal? With inspiration, comes the passion to create. Perhaps, more than anything, creativity is an attitude marked by approaching life with an open mind and inventive spirit.
To tap into your creativity, try these simple things and see what unfolds for you:
Free-association Writing

-- Begin each morning with 15 minutes of free-association journaling. Write whatever comes, without conscious thought or editing. You may be surprised at the wisdom you receive.



Walking

-- Take a walk in nature to get your creative juices flowing. Just being outdoors and observing nature can soothe our soul and open our eyes to a whole new world.



Meditate

-- Spending just 20-minutes each day in meditation can help you tap into your subconscious realms of inspiration. When we sit quietly and just breath, our deepest desires and new ideas for action can burst forth.



Energy Dancing

-- Sit comfortably, play some meditative music, and hold your palms facing one another in front of your chest. Close your eyes and allow your hands to move freely with the energy and flow of the music, unleashing your inner grace and expressiveness.



Music Drawing

-- Gather some paper, crowns, and three different instrumental songs. Close your eyes and listen the music. Notice colors or feelings that come to mind. Play the music again. Using crowns that represent each song, let your hands move freely over the paper drawing the music.
Starlight Meditation

Mago's Message

"Star light, star bright,
The first star I see tonight;
I wish I may, I wish I might,
Have the wish I wish tonight."


How often did you sit at your bedroom window, gazing at the sky with excitement and wonder, and recite this beautiful poem as a child? Many of us grew up with this famous 19th century poem and the belief that if we wished upon a falling or shooting star, our wish would be granted. The stars illuminated an infinite world of hope and possibilities, where even our wildest dreams and fantasies could come true. As the sun settled, we gazed upward and eagerly waited for the first star to peak through the twilight.

Something within us knew that we were connected to the stars. They reflected the mystery and vastness of an infinite universe from which we sprang. On a hot summer night, did you ever lie in the grass and marvel at the stars? Perhaps you remember the sound of crickets piercing the darkness and leaves softly rustling in the breeze, as nature's symphony penetrated your body and soul. The stars sparkled like gems on black velvet, each one seemingly separate yet also part of something greater.

When we gazed at the stars we reveled in each one's unique sparkle, but also sensed the black space in between them. It is this space that gave way to one vast, infinite universe. In this moment, with this wider view, we could feel our own divinity within and our connection to the greater whole. As we lost ourselves in the wondrous night sky, we inevitably asked, "Who am I? What is my role in this vast universe? What is my greatest desire?" If we listened intently, we could often hear an answer through the empty space.

When was the last time you gazed at the stars? As adults, we often forget to take time out for such simple things. We forget the awe and excitement that twilight can bring. So tonight, renew your childlike wonder with this simple starlight meditation:



Lie down and look towards the sky. Breathe deeply and raise your arms, touching the stars. Imagine their golden, white light seeping into your fingers, arms and chest.

Move your arms freely, dancing with the twinkling lights. Choose a bright star that is calling to you and enclose it in your palm.

Close your eyes, lower your arms, and place the star in your lower abdomen. Feel its brilliant energy enveloping you, expanding throughout every fiber of your being.

As the starlight illuminates your brain, feel the empty space between your breaths, and open to your own divinity. Ask for what you seek, or make a wish, and listen for the space to spark an answer.
Beyond the Stars: Unveiling Our Heart's Desire

Ilchi Inspiration

"Do not try to fill the small space with something, but break down the wall
Welcome infinite time and space, the sky and the stars, and this Earth.
That is when you can attain great freedom.
Find the star of a great dream and vision in your heart.
That is when your life will become brighter and freer.
That is when you will know that you are an eternal being."
"Within Time and Empty Space"
This short excerpt comes from a poem read on Ilchi Lee's new CD,

Inspiration for Your Day: Poems and Messages to Lift Your Heart

. It communicates the awe and wonder we experience when we look up at a starlit sky or into the evening sunset, which is matched by what we find when we look deep inside our hearts. The same light and space that makes up the universe, exists within our heart. It's the energy, the force, the creative power behind all things.

When we take the time to connect with our heart, we can tap into this universal power and use it to fulfill our truest, deepest desires. We can access the infinite creative potential and knowledge that exists beyond the stars, and experience the oneness and vastness of all existence.

Through meditation and breathing, with acceptance and heart-opening exercises, we can dissolve the wall that divides our mind and heart. With our mind and heart united, we can transcend space and time to experience deep peace. In this silence, our heart's deepest desire can be revealed and we can then take creative, benevolent action out into the world.

BEST Life Media publishes energy healing and yoga books, yoga DVDs, CDs and other products that promote healthy body mind spirit living. Brain Education System Training (BEST), which seeks to better the human condition through a variety of self-development techniques, serves as the underlying inspiration for many of our titles. Visit our website to browse our affirmation cards, a chakra meditation guide, wall art, personal journals, and other tools to assist your spiritual growth. Visit us at:
If you enjoy our newsletter, why not forward it to a friend?







Save
20%



Newsletter Exclusive Discount

Inspiration for Your Day: Poems and Messages to Lift Your Heart

by Ilchi Lee

Audio CD/Spoken Word

Sublime words of wisdom, set to inspiring music, carry you beyond space and time to a place of peacefulness and bliss.

Use coupon code

blm_0610

when you check out.

Offer Expires: July 15, 2010